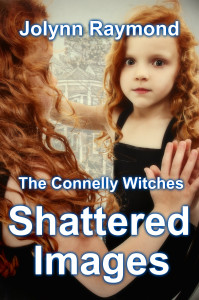 This is the first of the Connelly Witch books. It is the SAME book that is for sale in the combined book The Connelly Witches.
A family history page has been added to help readers keep track of the Connelly and Arcos bloodlines.
In Shattered Images, Jolynn Raymond introduces the Connelly Witches. They are a family whose magical talents date back hundreds of years. Those who bestowed the powers had only one command, protect mankind from the demons who would torment and destroy them.
Rachel Connelly-Grey is a woman who has turned her back on her family's magical heritage and responsibilities in order to be with the man she loves. She soon learns that forsaking her birthright and wishing for solitude from the family she must remain close to has horrible consequences, ones that she is no longer prepared to fight against.
While her family searches for her, Rachel must fight a demon that is determined to wipe out her family one witch at a time. Though he starts with Rachel, his evil touches her little girl, who sees all that is happening to her mother in horrifying visions.
Can the Connelly witches come together in time to save Rachel and stop the evil that will destroy their clan or will Syrull, the Demon of Reflections, be allowed to begin his annihilation of the Connelly Witches by trapping Rachel in a hellish dimension before moving on to kill all who bear the Connelly name?