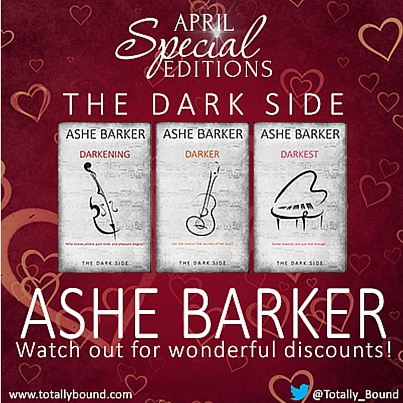 The Dark Side by Ashe Barker
Hi, and thank you for inviting me over today to chat about the re-release of The Dark Side.  This series was my first attempt to write anything more steamy than a birthday card and I was delighted with it. I'll always be proud of how well the books did and the fabulous reviews they received. I am eternally grateful to Totally Bound for accepting them and for taking a chance on the unpublished rookie I was back then.
So, if it ain't broke, why mend it?
As I wrote The Dark Side I had no idea if anyone but me would ever read the books. I knew next to nothing about the world of publishing or professional writing, so although my editor did a fabulous job of making the books fit to be seen among decent folk (or should that be indecent folk?) there were always aspects of the story I felt could be improved. There were scenes I thought about writing but left out, and ways in which I believed the connection between Nathan and Eva could be deepened. The re-release was a rare opportunity to have my time again and complete the job.
There's new content in each of the three books, but I won't spoil it by saying exactly what. Suffice it to say we see yet another quirk in Eva's already complex nature, and aspects of Nathan which I hope will endear him to readers even more. He's a hard Dom, stern, demanding and insanely sexy. We lose none of that, but the additional content helps to bring out his caring nature a little more.
There's also a whole new epilogue to conclude the story. This picks up a loose end which always bothered me so I feel the series is better rounded now.
Enter my Rafflecopter for a chance to win ALL THREE BOOKs in the series. The competition ends on 1 May.
Rafflecopter HTML
Even if you grabbed your copy of The Dark Side first time around this version has been re-edited, with new content, new scenes, and an epilogue.
Series Blurb
The Dark Side trilogy charts the sensual journey of academic musician Eva Byrne as she struggles to overcome painful shyness, sexual inhibition and personal tragedy. Lonely, unsophisticated, desperately seeking love and approval, Eva is easy prey for sensual and experienced Nathan Darke.
He wants her submission, and he knows how to go about getting it. Eva is quickly caught up by the whirlwind of his effortless seduction, though she has her own reasons for agreeing to join him in his world of pain and pleasure, on the dark side.
Inexplicably fascinated and at the same time totally frustrated by his new submissive, Nathan is increasingly drawn to her as she opens up in his hands and he realises there is much, much more to his latest playmate than he ever could have imagined.
The Dark Side charts the turbulent relationship between Eva and Nathan as their mutual fascination builds. They both discover what surrender truly means as together they explore the fragile bonds of desire, trust, risk and reward, and the destructive power of betrayal.
Darkening, Book 1 in The Dark Side Serial
Who knows where pain ends and pleasure begins?
The chance of a new life out in the wilds of the Yorkshire moors sounds too good to be true to shy musician Eva Byrne. Stifled and smothered within the cocoon of her brilliant academic career, Eva yearns for something different. Something real and exciting. Something she can feel.
Excitement. Passion. Pleasure. She finds that sexy, enigmatic Nathan Darke can provide all these and more when she moves into his home as violin tutor to his young daughter. But Eva's sensual encounters with her demanding, domineering new employer quickly evoke her deepest fears, as he introduces her to the trauma of submission and marks her with his particularly dark brand of love.
But will Eva's natural curiosity and thirst for new experiences be enough to withstand the sting of Nathan Darke's exquisite touch? Will simple surrender be enough as he challenges her every inhibition, taking her on an erotic journey of self-discovery and liberation?
Darker, Book 2 in The Dark Side Serial
Can Eva outrun the secrets of her past, or is surrender her only choice?
Eva Byrne's first encounter with the darker side of Nathan Darke's sensuality ends in disaster. Frightened, hurt, betrayed, she struggles to regather her shattered confidence—in him, and in herself.
Desperate to continue her journey of exploration and self-discovery, Eva has to convince a skeptical Nathan that she's worth the trouble. And that she can learn to submit to him. When she is forced to reveal elements of her past she has preferred to keep hidden, both her brilliance and her vulnerability are laid bare. Will Nathan accept Eva as she is, and help her to become the woman she longs to be, or will she face yet another rejection?
Terrified and intrigued in equal measure, Nathan has no idea how to deal with the exquisitely enigmatic Eva Byrne. Should he cut his losses and run, or allow their relationship to continue, and watch as Eva's delicate beauty unfurls in his hands?
Fascinated and ensnared by Nathan, Eva longs to taste what he offers and her erotic journey continues. But how much will she have to surrender to him in order to liberate her own desires?
Darkest, Book 3 in The Dark Side serial
When his past destroys Eva's trust in her Master, can he win her back?
As their turbulent, complex relationship deepens, Nathan Darke is increasingly aware that Eva Byrne has become much more to him than his submissive. She's in his home, in his family. And in his heart.
Eva hasn't found it easy to trust, to believe in herself and in a relationship that might last. But happiness, once so elusive, is within her grasp. Nathan is her Master, her lover and her soulmate.
However, no sooner do they manage to find a fragile balance between them—a way of entwining both their worlds—and start to build a future than their past comes crashing back to destroy their emerging love. Jealousy and hate brutally shatter Eva's and Nathan's delicate trust in each other, and their life together crumbles.
Can they overcome the crushing pain of betrayal and deceit to regain some sort of future together, or are some wounds just too deep to heal? Are some risks too great? Some rewards just not enough?
Steamy Excerpt:
"I think we need nipple clamps, don't you? Nice pink ones with vibrating bullets suspended from them. Vibrating bullets are great on your clitoris too. Very versatile," he whispers in my ear.
I can only nod as he clicks on the item and adds it to the basket.
"Now what? Butt plugs? A girl should have her own personal butt plugs, I think. More hygienic. Don't you agree, Miss Byrne?" He never lets up the pressure on my nipple, squeezing it between his fingers whilst his thumb rubs the tip, hard, as he swiftly adds more products to the basket. "And some anal beads, I think. Very interesting sensation. You'll like those. Would you care to bend over the table and lift your skirt, Miss Byrne, let me demonstrate?"
What? Now? "Do you have some handy?" Did I actually say that?
"Never leave home without them, Miss Byrne. But maybe now's not the time. Definitely something to look forward to, though. Have we finished shopping?"
I nod, desperately writhing against his hand.
"Okay." He taps the screen a few more times to complete the purchases. Then, slipping his hand out of my bra, he pulls me to my feet and quickly turns me to face the table. His hand in the small of my back, he pushes me face down across the hardwood surface, sliding the iPad and my coffee cup to one side.
I start in surprise as he lifts the hem of my dress—surely he just said…
Then I moan out loud as he again slips his hand into my clothing, this time down the back of my lovely red lacy briefs, down the hollow between my buttocks, slowing slightly to circle my anus with one gentle fingertip. I stiffen, waiting…
"So sweet and tight. We'll come back to this," he murmurs softly, leaning close to kiss my neck before continuing on between the wet, swollen lips of my vagina. He slips one finger inside my moist entrance, working gently in and out, circling the outer lips, spreading my juices all around. I moan faintly, lifting my bum up in welcome. He slides a second finger inside, whilst with his other hand he attacks from the front to take my swollen clitoris between his thumb and finger, gently rubbing.
The combined pleasure is so intense, so centered, so sudden, it overwhelms me and I come immediately. I scream, unable to contain any of the fabulous sensation of internal fragmentation now shooting out through my outstretched fingers—white-knuckled, still gripping the edge of the table—and my toes, still encased in my lovely, red fuck-me shoes. I whimper, almost in frustration that my climax has hit me before I even saw it coming.
"I'm not finished with you yet. Stay there."
More? How wonderful.
His voice is low, seductive and commanding. I stay still. Waiting. He straightens, steps away from me, goes over to his desk. He returns a moment later, gently pulling my underwear down to my ankles. "Step out." His command is clear. I obey.
"You have a beautiful bottom, Miss Byrne," he observes, trailing his fingertips lightly down the furrow between my buttocks, then tracing the line of each lower curve before bringing something down on me—hard, sharp, fierce. I scream out loud, with shock more than pain, though the sting is real enough. Instinctively I start to stand up, but his hand goes to the small of my back, pressing me back down.
"We agreed on five strokes for every frown. I counted at least four frowns since we came into this room, and that's me being generous, Miss Byrne. So that's twenty strokes. Agreed?"
I don't answer, still reeling from the sudden assault. He strikes me again, and I scream again, louder. "Agreed, Miss Byrne?"
"Yes, yes. Please don't…"
"Eighteen to go, then. Grit your teeth, Miss Byrne."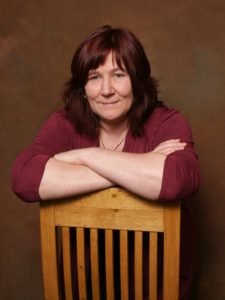 About Ashe Barker
I've been an avid reader of fiction for many years, erotic and other genres. I still love reading, the hotter the better. But now I have a good excuse for my guilty pleasure – research.
I tend to draw on my own experience to lend colour, detail and realism to my plots and characters. An incident here, a chance remark there, a bizarre event or quirky character, any of these can spark a story idea.
I live in the North of England, on the edge of the Brontë moors. When not writing – which is not very often these days – my time is divided between my role as resident taxi driver for my teenage daughter, and caring for a menagerie of dogs, tortoises.  And a very grumpy cockatiel.
I have over thirty titles on general release with publishers on both sides of the Atlantic, and I have several more in the pipeline. I write M/f, M/M, and occasionally ring the changes with a little M/M/f. All my books feature BDSM. I write explicit stories, always hot, but they offer far more than just sizzling sex. I like to read about complex characters, and compelling plots, so that's what I write too.
I have a pile of story ideas still to work through, and keep thinking of new ones at the most unlikely moments, so you can expect to see a lot more from me.
Review Quotes
Holy crow! I knew Eva was intelligent but WHOA! (OK no spoiler reveals).
The sex … is bow-chica-wow-wow hot! Note to Eva – if you get tired I'll tag in for you! Yes this is an erotic story but there is so much more than just sex. The soul baring and secret revealings have me alternating between laughing, gasping and tears.
Author Ashe Barker has definitely mastered the art of cliffhangers because just when I think her books are going to end on a high note, BAM! there it is. I know I will just be crushed to see this story end … an absolute must read and I do highly recommend reading the Dark Side Trilogy.
What a fantastic third book. The ending was everything you could hope for. Ms Barker knows what it takes to satisfy her readers, and she doesn't disappoint. My only complaint is that there are no more books to read in this trilogy.
Wow, I have enjoyed these three books so much that I would like his version of this love story, please it would be nice.
Buy Links
Darkening   Amazon US   Amazon UK   Barnes and Noble   All Romance   Totally Bound 
Darkening is FREE at Totally Bound and All Romance until 30 April 2016
Darker   Amazon US   Amazon UK   All Romance   Totally Bound
Darkest   Amazon US   Amazon UK   All Romance   Totally Bound
Social Media Links and Newsletter sign-up