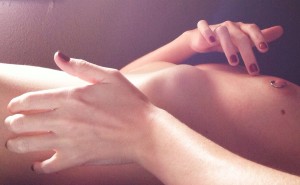 Photo courtesy of Switch Studies
The only place where the smartest and hottest sex bloggers are featured under one roof every month. Whether you're looking for sex journalism, erotic writing, relationship advice or kinky discussions it'll be here at Elust. Want to be included in Elust #75? Start with the rules, come back October 1st to submit something and subscribe to the RSS feed for updates!
~ This Month's Top Three Posts ~
Machine
She wanted to let the light in…
Reflections on the Male Nude
~ Featured Post (Molly's Picks) ~
~ Readers Choice from

Sexbytes

~
*You really should consider adding your popular posts here too*
Can a Woman be a Good Mother and Write a Sex Blog
All blogs that have a submission in this edition must re-post this digest from tip-to-toe on their blogs within 7
days.Re-posting the photo is optional and the use of the "read more…" tag is allowable after this point. Thank you, and enjoy!
Thoughts & Advice on Sex & Relationships
Leaden Heart
Summer awakening
Our Kind Of Monogamy
If You're Gonna Be A Thot Do It With Grace
Playing at Poly
I'm a-Lousy-Monogamist
Sharing the bed
The Couple and the Coquette
Four Love
Erotic Fiction
All Girls Night
Unresponsive Satisfaction
i don't want realism, i want magic
A Stranger's Tale
Motion Capture
Checking Southward
His Slave Heart.

Erotic Non-Fiction
Sexy Riding
Relaxing
I noticed without paying attention
Humiliating an ex-Nazi submissive: sex slave
The End of a Rut
Rayne is a Fucktoy Cunt
Mindful Orgasm
Events
5 Reasons Woodhull Was an Amazing Experience
Sex News, Opinion, Interviews, Politics & Humor
Sex: Vegans, Carnivores, and Apex Predators
Thoughts & Advice on Kink & Fetish
Location, Location, Location
Seven Dimensions of Dominance
Light That Fire: Motivational Tools
When A BDSM Scene Ends Abruptly
Writing About Writing