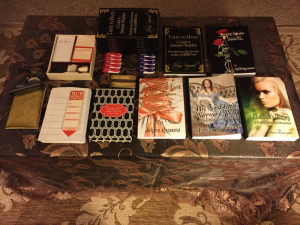 One More Day Until BDSM Writers Con 2015 #NYC
Tomorrow starts the unofficial kickoff of BDSM Writers Con in New York City. At 5:30pm there is an Author Buddy Program to network with the authors and then at 7:00pm starts the Mix and Mingle with drinks and a light fare of food. 
The first ten people who attend this week for the BDSM Writers Con in New York City get a signed copy of Taken In Hand, a 16 GB usb drive, a bookmark and some other fun stuff that's in the pages of the books. The next ten people get a chance to get one of the two signed copies of Taken In Hand, Lessons of Love, Elizabeth's Destiny, His Lordship's Wayward Wife, or Sweet Agony. Elizabeth's Destiny is not available on Amazon for Kindle since it's blocked for no good reason, so I wanted to be sure to send more than one copy. There is also one author prize of a nice notebook with a non smudging signing pen. It has a quote from Benjamin Franklin on the front: "Either write something worth reading, or do something worth writing." The weekend before last I spent hours putting all the goodies together for the first 100 people at the BDSM Writers Con in New York. In fact, I stayed up all night so I could go to the post office early and ship the boxes overnight so Dr. Charley would have them by the 10th. Jolynn's book Taken In Hand has been nominated as one of the finalists for the Golden Flogger Awards this Thursday. 
Unfortunately we won't be able to attend the BDSM Writers Con this year since Jolynn is now working a new job with totally different days off. I'm a sad clam since we planned this since last Christmas Day with Dr. Charley. We will miss everyone and hope to make it out a different year when she's able to retire early. We will be going to Kinky Kollege in Chicago this October, the weekend of the 16th – 18th. Tickets are bought and the hotel room is reserved. We are working with board members to make her Domestic Discipline class happen, and will keep everyone updated as things progress. There was a class given in July on the 16th at the Milwaukee Naughties Munch and it was well received. Thanks to Richard and Auddie for making it happen.