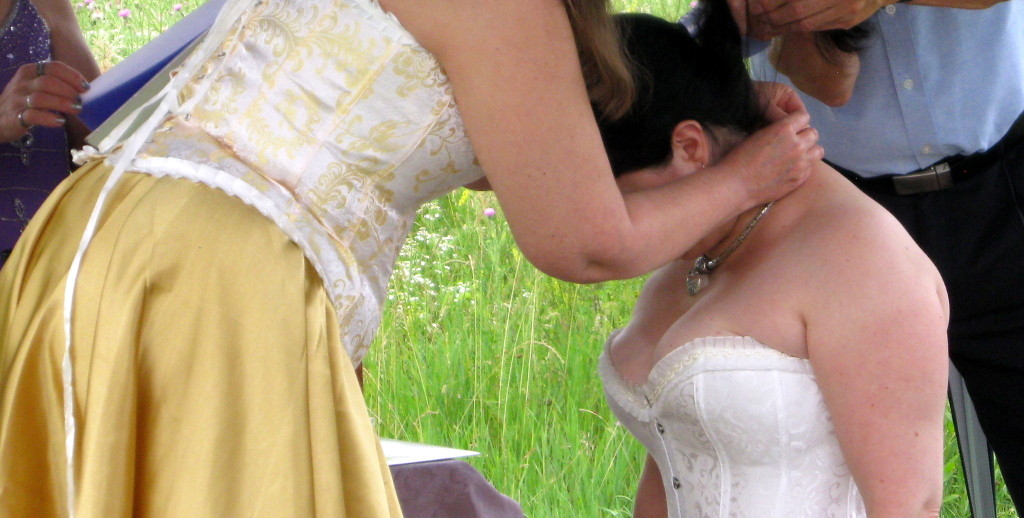 Our Collaring and Wedding Ceremony
Welcome
Jolynn and Kathleen welcome you all and thank you for celebrating with them on this
very special occasion. They are filled with gratitude for each and every one of you
for the loving friendship and support that you have shown them. Being able to share
this day with you, surrounded by your love, is a treasured blessing.
Gathering Words
Today Jolynn and Kathleen will take each other as wedded spouses and Mistress
Jolynn will collar her submissive, Kathleen. In our world, both of those rituals have
equal and deep spiritual meaning. Today they stand by each other, proud and happy
about the special love they have found, and today we celebrate with them all that
lies ahead.
There are so many ways that we can choose to be in relationship with each other,
but it is love that gives the deepest meaning to our lives. It is our highest calling; our
greatest purpose, and our finest achievement. For those of us blessed by a true
partnership of love, we feel safe in the presence of our loved one. There is no need to
hide any part of ourselves for fear of being judged or rejected. We can just be
together from moment to moment, believing that those moments will thread
together into eternity.
There is a gentleness to the presence of love that softens life's rough edges. It makes
us somehow braver to go forth into the world knowing that the shelter of someone's
love awaits us at day's end.
Our world and our activities require vulnerability and trust at the deepest level.
Mistress or submissive, we are most vulnerable when we love, for we place our trust
in another to honor us and to care for us, to treasure us and to receive our love.
In love, we trust that the other will provide a safe haven in which we can experience
and share the fullness of our being with one another. And in so doing, we trust that
our lives will be far richer than had we chosen separate journeys through this world.
We trust that our love will fill us full and make us wiser and more beautiful beings.
We find that our union graces our lives with balance, a sweetness beyond any we
have ever tasted, and a treasure beyond any measure of value we have ever known.
Remembrances and Acknowledgments
The interactions of Jolynn and Kathleen with everyone in their lives have shaped
them into the two strong, independent women standing before us. They
acknowledge and celebrate those whose love, support, and nurturing are such an
essential part of who they are today, as well as those who have shown them the
power and possibilities of love. There are many special people who are unable to be
here with us today for one reason or another, so let us call them forward in our
hearts.
Reading
Treasured by children and grownups alike is the wise and enchanting fable, The
Little Prince, by Antoine de Saint-Exupery, [Jud, beloved friend of Jolynn and Kathy,
will share with us an excerpt:
The Little Prince lived alone on a tiny planet no larger than a house.
He owned three volcanoes, two active and one extinct. He also owned
a flower, unlike any flower in all the galaxy, of great beauty and of
inordinate pride. The Little Prince's travels brought him to Earth,
where, from a fox who asks to be tamed, he learned the secret of what
is really important in life.
The fox said to the Little Prince; "If you tame me, then we shall need
each other. To me, you will be unique in all the world; to you, I shall be
unique in all the world. If you tame me, it will be as if the sun came to
shine on my life. I shall know the sound of a step that will be different
from all the others. Yours will call me, like music. One only
understands the things that one tames … " The fox also tells the Little
Prince: "One must observe the proper rites. Those also are actions too
often neglected. They are what make one day different from other
days, one hour from other hours." When The Little Prince is leaving to
return home, he meets the fox to say goodbye. The fox tells him: "And
now here is my secret, a very simple secret: It is only with the heart
that one can see rightly; what is essential is invisible to the eye. It is
the time you have wasted for your rose that makes your rose so
important. Men have forgotten this truth, but you must not forget it.
You become responsible, forever, for what you have tamed. You are
responsible for your rose."
Declaration of Support
Collectively, you represent the families, friends, and traditions that have brought
Jolynn and Kathleen to this point in their lives. As part of the community that
surrounds them, I invite each of you to indicate your support for Jolynn and Kathleen
by answering I will" to the following question:
Will each of you do everything you can to uphold and care for these two persons in
their marriage?
[Guests: I will!]
I encourage you as families and friends: always choose to be loving in your thoughts
about and interactions with Jolynn and Kathleen. Stand beside them, not between
them. Come to them in peace, not in judgment. Show them your kindness, your
support, and your loving hearts.
Marriage Address
Marriage is the essence of human relationships. It challenges us to be of one accord
without abandoning the truth of our individuality. It challenges us to not lose
ourselves in one another, but rather to walk side by side heading in the same
direction.
As with all relationships, marriage is an endless presentation of choices about how
we want to be with one another. Each choice results in either more unity or more
separation. Choose into that unity, Jolynn and Kathleen, every chance you get.
Sacrifice your judgments, expectations, and any other ways that you have learned to
separate yourselves from each other.
Share the gifts of your friendship, humor, vulnerability, sensitivity, and kindness. Be
sure to find ways each day to protect, affirm, and support each other, and to
treasure the balance and shared values that you have found with each other.
Enjoy the intertwining of your independence with your intimacy. I wish you the
courage to keep your loving hearts open to each other for the rest of your lives.
Sacred Ritual: Blending of Sand
Jolynn and Kathleen have chosen a ritual in which their relationship will be
symbolized through the pouring of these two individual containers of sand.
Jolynn, please take and hold your container of sand. It represents all that you were,
all that you are, and all that you will ever be. Kathleen, please take and hold your
container of sand. It represents all that you were, all that you are, and all that you
will ever be. Like each grain of sand, each of you has your own unique beauty, 
strength, and character. You are able to stand on your own and be whole, without
the need of anything else.
Jolynn and Kathleen, may your love always be as constant as the never-ending
waves, flowing endlessly from the depths of the sea. Just as there will never be a
morning without the ocean's flow, may there never be a day without your love for
each other. You are making a life-long commitment to share the rest of your days
with each other.
When your two lives are blended together, you are creating an entirely new and
extraordinary relationship. Each grain of sand and every individual quality you
possess brings to the mixture a lasting beauty that will forever enrich the
combination.
The two separate containers of sand you each hold represent your lives to this
moment; individual and unique. Now, please blend your sand, symbolizing the union
of the separate lives of Jolynn and Kathleen into one life as spouses. The life that each
of you has experienced until now, individually, will hereafter be inseparably united,
for the two shall become one. Just as these grains of sand can never be separated
and poured again into their individual containers, so will your marriage be.
Wedding Vows
Jolynn and Kathleen, you stand before me as equals, ready to make a commitment to
each other and to your relationship.
Jolynn, do you take Kathleen to be your wedded wife, to have and to hold, from this
day forward, for better, for worse, for richer, for poorer, in sickness and in health, to
love, honor, cherish and protect, till death do you part? [Jolynn responds: "I do."]
Kathleen, do you take Jolynn to be your wedded wife, to have and to hold, from this
day forward, for better, for worse, for richer, for poorer, in sickness and in health, to
love, honor, cherish and obey, till death do you part? [Kathleen responds: "I do."]
Ring Exchange Prelude
This is the point in the ceremony when the officiant usually talks about the wedding bands being a perfect circle, having no beginning and no end. But we all know that these rings do have a beginning. Rock is dug up from the earth. Metal is liquefied in a furnace at a thousand degrees. Hot metal is poured into a mold, cooled, and then painstakingly
polished. Something beautiful is made from raw elements.
Love is like that. It comes from humble beginnings, made by imperfect beings. It's
the process of making something beautiful where there was once nothing at all.
Ring Exchange
With that in mind, Cindy, please give Kathleen's ring to Jolynn.
Jolynn, as you place Kathleen's ring upon her finger, please repeat after me:
Kathleen, with this ring, I thee wed, as I pledge my life unto yours.
When you need strength, I will offer mine. When you need words of
encouragement, I will listen and provide support. When you need
solace and comfort and the silent speech of love, I will understand. I
place you in my heart today, before all others, and I pledge to work
from this hour forward to make our commitment a sound and
challenging one.
Cindy, please give Jolynn's ring to Kathleen.
Kathleen, as you place Jolynn's ring upon her finger, please repeat after me:
Jolynn, with this ring, I thee wed, as I pledge my life unto yours. I give
you my promise of honesty, trust, obedience, and devotion. I will
stand beside you through the difficult times, wonderful times, and the
strong as well as weak times. May we overcome all obstacles together.
With this ring, I interlock my heart with yours for eternity.
Collaring
Now that you have wedded as equals, Kathleen will relinquish that equality and
submit to Jolynn, her Mistress. Kathleen, please kneel before your Mistress.
Jolynn, please speak to Kathleen from your heart, telling her why you want to have
her at your side for the rest of your lives.
Kathy, you are assertive, yet gentle. You are stubborn, but yielding;
you bend your will to my wishes like you never have for another. I
admire your spirit, your honesty, your spontaneous silliness; and your
quiet shyness that others never see. My aim is not to change you, but
rather to grow with you and to help you grow. I bring a stronger heart
to this choice than I have brought to any other. Never before have I
wanted to take someone as mine by the offer of a collar for life. I want
to bind you to my side and tuck you safely in my heart for the rest of
your days. You give my life balance, support, love, laughter, strength,
passion, and a completeness I have never known. I wish for my love
and my dominance to give you wings, to let you soar in this life yet
remain with me, as mine, for two forevers.
Kathleen, please speak to Mistress Jolynn from your heart, telling her why
you want to have her at your side for the rest of your lives.
The night that I met you, I knelt before you. Heads were a-turning
when I did that, but it just felt right to me, so I did it. People were
probably wondering, "What's going on?" I was bratty, bold, and hard
to tame before I met you. I would submit, but it was a "battle" to the
end. Before I found you, no one had accepted me for who I am. My
opinion wasn't valued, my silliness wasn't accepted, my loudness was
unappreciated, and my sass misunderstood. No one loved me just the
way I am. Finding you has opened my eyes to how I can give my
submission with joy and yet stay true to myself. I don't have to
question your approval or doubt your love for me. It is there in what
you do, what you say, how you treat me when you are angry, how you
teach me quietly, and how you show me respect. The others wanted
respect without giving it. They wanted to shape me into what pleased
them without caring about what made me happy. With you, love
means freedom: freedom to love you without judgment and freedom
to be yours while maintaining the very soul of me.
Kathleen, please rise.
A collaring is a conscious act of personal will, the voluntary and total commitment of
two consenting adults to build a life together, a life not always understood by others.
It is an active choice to accept the challenges brought by owning and serving and,
through every action, to show the commitment freely given to one another. It
requires courage to face the fears that are a necessary part of life, and to use those
fears to more deeply establish and nurture the strength gained from each other.
Jolynn and Kathleen, you must each stand by your commitment, be firm in your
defense of each other, accept each other's word above all others, trust each other
first, and be supportive of each other's goals and dreams. This is a solemn and
binding act, and a challenging relationship.
Today, Jolynn and Kathleen, you have wedded each other. Now I ask you to commit
yourselves to each other in trust, to embrace conflict as well as peace, to work as
well as play, to struggle as well as coast, to give as well as receive, and to be with and
move toward each other in all situations.
Kathleen has, of her own free will, taken to herself the title of submissive. That title
describes an honored vocation: submission freely chosen by Kathleen, a consenting
adult, received by Jolynn, Kathleen's Mistress, with honor, respect, and gratitude; and
recognized by both as the greatest gift one can offer to another. Kathleen's freely
given gift of submission, and Jolynn's grateful acceptance of it, has been the source
and the underlying strength in your relationship, allowing you both to grow:
Kathleen in her service and obedience to her Mistress, and Jolynn in her caring,
protection and nurturing of her submissive.
In older times, the collar Jolynn is bestowing upon Kathleen would have been made
of metal heated to a glow and plunged into cold water to temper it after it was
burned of all impurities. This action symbolized the removing of all impurities from
the circle of ownership provided by the Dominant. All outside influences are burned
away in the heat of her desire to protect and defend her submissive. The tempering
of the metal that takes place when plunged into cold water shows the strengthening
of your commitment by submersion into the waters of life.
Kathleen, please kneel before Mistress Jolynn. Jolynn, as you fasten Kathleen's collar
securely around her neck, declaring to all who see it that you will protect and guide
her for eternity, please repeat after me:
Kathleen, I accept your desire to serve me. I will honor your feelings
and needs. I will always put your best interests foremost in my
dominance over you. You belong to me. Thus, you are now a part of my
body and soul. Your happiness, health, and well-being are in my care,
and I will selflessly tend to them because you are a part of me and my
destiny.
Kathleen, please repeat after me:
Mistress Jolynn, I accept the conditions of my service. I will honor and
love you as I serve you to the best of my ability. I will open my heart,
body and mind to your will, trusting that you have my best interests in
your heart. My submission to you will be a gift freely given and shall
never become a burden that I must bear. I am now a part of you and
will respect you and your dominance over me as lives and
destinies have become one.
Closing
Jolynn and Kathleen, may the grace of this day carry forward with you all the days of
your lives. May you find delight in each other and may your love continue to grow
and to nurture you throughout your lives.
I wish you the strength to be true to the vows you have made here today. May you
always have the wisdom to cherish the precious love you share. May you abide by
the laws of Spirit, nurturing yourselves and this marriage with acceptance,
understanding, cooperation, and loving.
May the life you share be peaceful, healthy, and filled with blessings and joy.
As the Apache Wedding Blessing declares:
Now you will feel no rain,
For each of you will be shelter to the other.
Now you will feel no cold,
For each of you will be warmth to the other.
Now there will be no loneliness,
For each of you will be companion to the other.
Now you are two persons,
But there is one life before you.
Go now to your dwelling place to enter into the days of your togetherness,
And may your days be good and long upon the earth.
Pronouncement
Until Wisconsin recognizes your legal union, Jolynn, and Kathleen, I cannot use the
traditional language to confirm your marriage. In your hearts, minds, bodies, and
souls, though that's really the only place that matters as well as in the eyes
of everyone here today. You have made your vows and you have indeed wedded
your beloved. So, by the power of love, granted by a higher authority than the State
of Wisconsin, I witness and affirm your union of love, and your commitments as
Mistress and submissive. By the power vested in me, it is my honor to hereby
pronounce you, Jolynn, and you, Kathleen, wives, spouses, and partners-in-life.
Jolynn, you may kiss your bride!
Congratulations!
Introduction
Ladies and gentlemen, Masters, Mistresses, slaves, submissives, and friends, it is my
privilege to introduce to you the newlyweds, Mistress Jolynn and Kathleen, her
cherished wife, partner, and submissive.