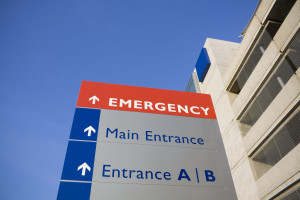 Adventures In and Out of the Hospital This Month
On March 7th, my brother in law was found unresponsive in his bed. Before he was found, the neighbors were worried as they hadn't seen him in quite a while and they tried to get management staff to open his door. They had called the police, and a police lady ended up calling the Queen Mother after the neighbors had called her earlier around 6:30pm. Someone with a key had to let them in, and the Queen Mother thought we were too far away and she was closer and could get there quicker.
The Queen Mother gets there, the police go in, and they call 911 to take him to the closest hospital. She goes home and calls us at 7:30pm to tell us about all this. At first we thought it was a diabetic coma, but the hospital staff kept saying it wasn't and did not really say what is was. He was half dead, and they had to put a breathing tube down his throat, and also a tube down his nose to get all the stomach contents up. He had to be restrained for maybe three days until they took the tubes back out. They had put him in a drug induced coma to get rid of all the stomach contents and get all the crap out of his lungs since he aspirated on his puke. We had to wait and see if he would have brain damage from lack of oxygen and if his organs would be ok or not. 
My brother in law had memory loss at the hospital, and the staff didn't catch it. I had to call the social worker a few times to get them to test him for it and keep him an extra day before he was sent home. They were pretty much letting him go home like that and he didn't even remember how to put his clothes on when we were getting ready to leave the hospital. The Queen Mother volunteered to stay with him and pretty much could only take it for about three days at his house. You had to prod him to do what he needed to do, and he was just out of it, and it was too much for her. 
Now he's been staying at our house since then so he could get better, and not go right back into the hospital. A nurse at the hospital was trying to get a hold of him, so they had sent the insurance lady out to see what was going on. She just caught us Friday as we were leaving his house to take food and meds to our house. I told her he needed home health to be sure someone was checking on him if he would end up going back to his house to live. That was last Friday. He seems to have his wits more about him and you don't have to prod him endlessly to do stuff. We'll see how this week goes and what happens after I can set stuff up for him for home care.
I just wanted to let everyone know that we haven't fallen off the face of the earth, and things keep popping up that need to be taken care of.